Extraordinary Optical Transmission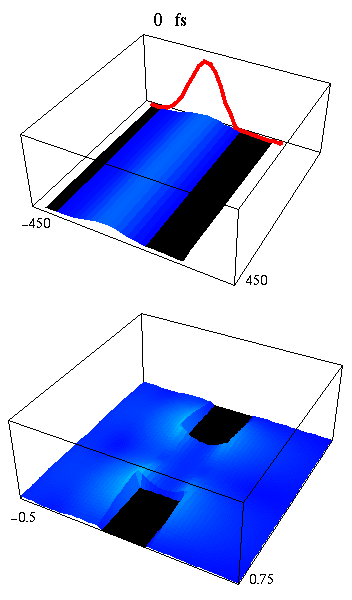 During the last fifteen years, our theoretical group has played a leading role in the research on the so-called extraordinary optical transmission (EOT) through subwavelength apertures. The starting point was the discovery in 1998, by the experimental group headed by Thomas W. Ebbesen, that the transmission of light through periodic arrays of subwavelength apertures in a metal film is orders of magnitude larger than what was expected for a collection of single holes.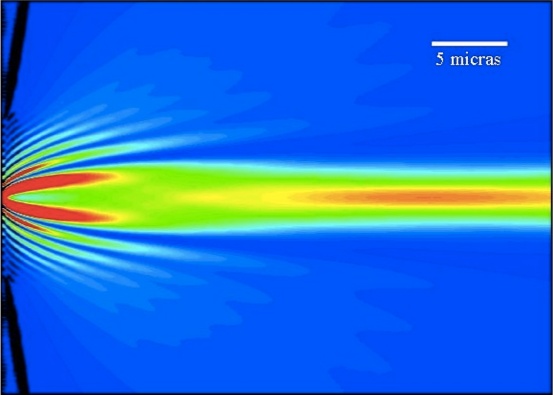 In 2001, our group showed that this effect is due to the resonant coupling of SPPs, present at both sides of the metal film, and coupled between themselves through the fields in the hole. Subsequently, we discovered, in collaboration with Ebbesen's group, the effect of beaming through single subwavelength apertures flanked by surface corrugations, and explained its basics, as well as that of EOT through single apertures and the extension of this phenomenon to other types of waves.
Key References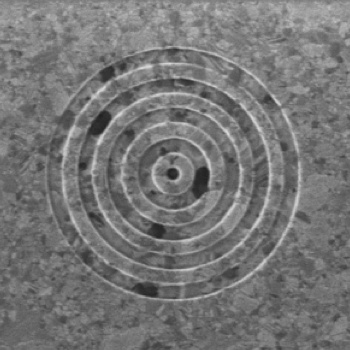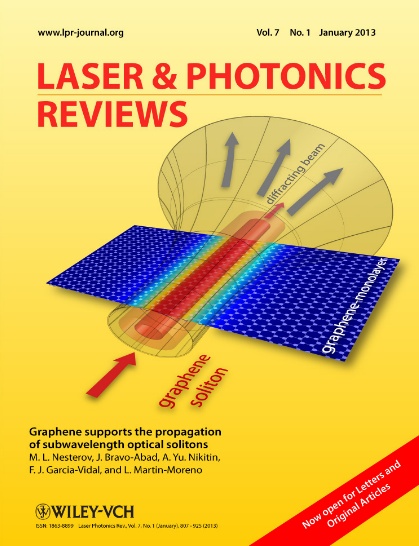 Graphene Nanophotonics
Graphene is a new, resistant, transparent and extremely flexible material. Fundamental properties and potential applications of graphene-based structures are now of essential interest in emerging nanoelectronic applications. Despite its extreme thinness, graphene is capable of bounding surface EM waves, thus opening up the possibility of using this material for many of the applications proposed within the field of Nanophotonics (field enhancement, two-dimensional optics, propagation of signals in surfaces...).


Key References
Plasmonic Lasing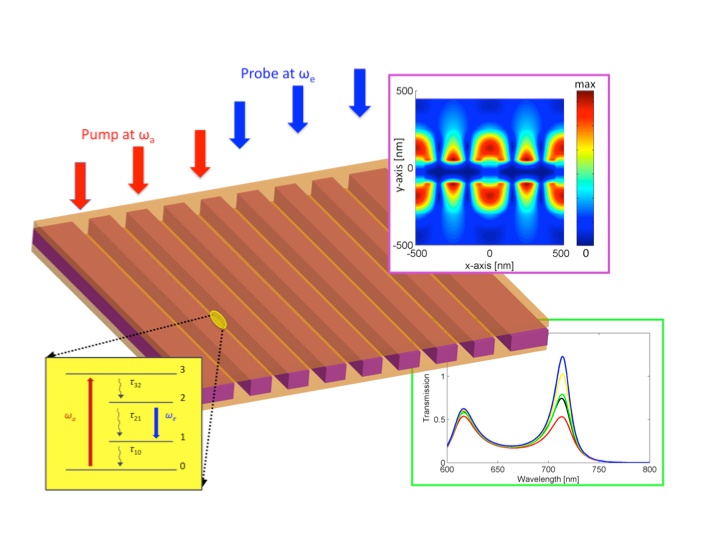 The introduction of optical-gain media into a plasmonic structure does not only modify the propagation length of the SPP modes but it has also permitted the observation of SPP stimulated emission processes. This was an important step forward for the generation of a coherent SPP beam.

The necessary key ingredient to observe SPP-based lasing is the presence of an efficient feedback within the plasmonic system. Two very recent investigations, published in Nature in 2009, have provided this missing link, leading to the first observations of plasmo-based nano-lasers. The impact of having an operational laser of nanoscale dimensions is huge.



On the applied front, the fabrication of ultra-fast photonic nanocircuits and the improvement of techniques such as nanolithography and single-molecule biochemical sensing could be highly benefited from the existence of a nanolaser. We could even envisage nanolasers as key elements in quantum-information technologies. We aim to develop the necessary theoretical tools to analyze, from a fundamental point of view, the exciting possibilities opened up by those recent designs of plasmonic nanolasers.
Key References
Gain-assisted extraordinary optical transmission through periodic arrays of subwavelength apertures
R. Marani, A. D'Orazio, V. Petruzzelli, S. G. Rodrigo, L. Martin-Moreno, F. J. Garcia-Vidal and J. Bravo-Abad,
New J. Phys. 14, 013020 (2012). [pdf]


Lasers go nano
Francisco J. Garcia-Vidal and Esteban Moreno,
Nature 461, 604 (2009). [pdf]


Quantum Plasmonics
Within Plasmonics most interest has been in the classical, many-photon regime, where SPPs are generated by light and, after travelling and decaying along the metal surface, are re-emitted as photons in free space. However, in recent years, a few experiments regarding the quantum properties of SPPs have been performed and a new line of research named Quantum Plasmonics is now being established. The inherent reduction of electromagnetic modal volume associated with the excitation of SPPs makes these electromagnetic modes ideal candidates to be the intermediate and key actors between quantum emitters and light.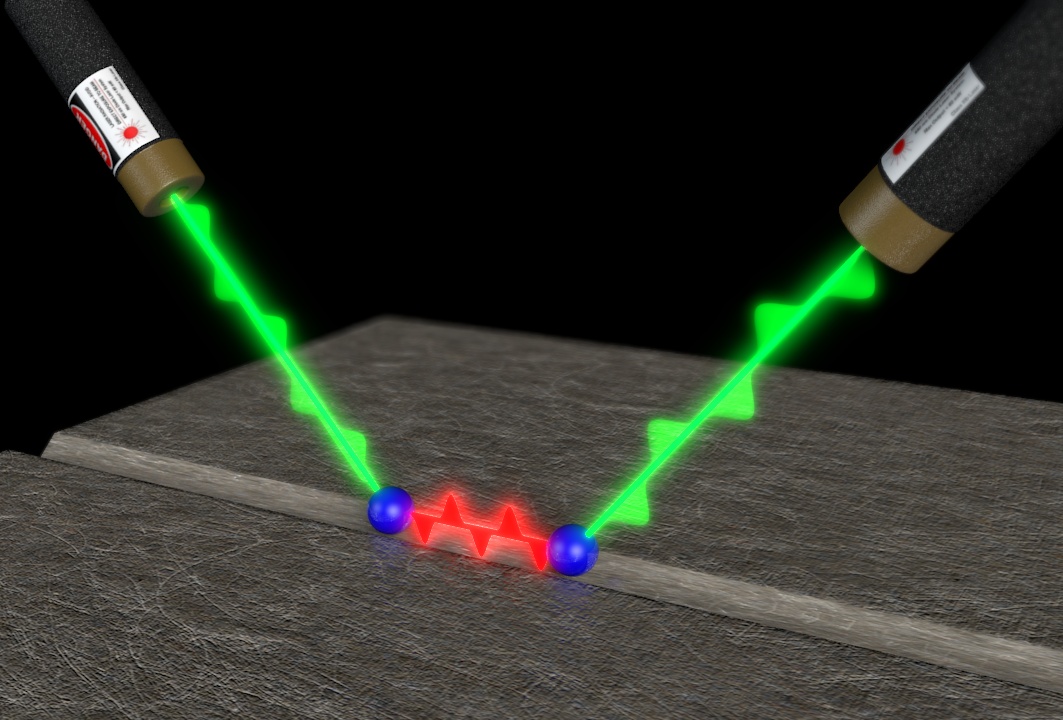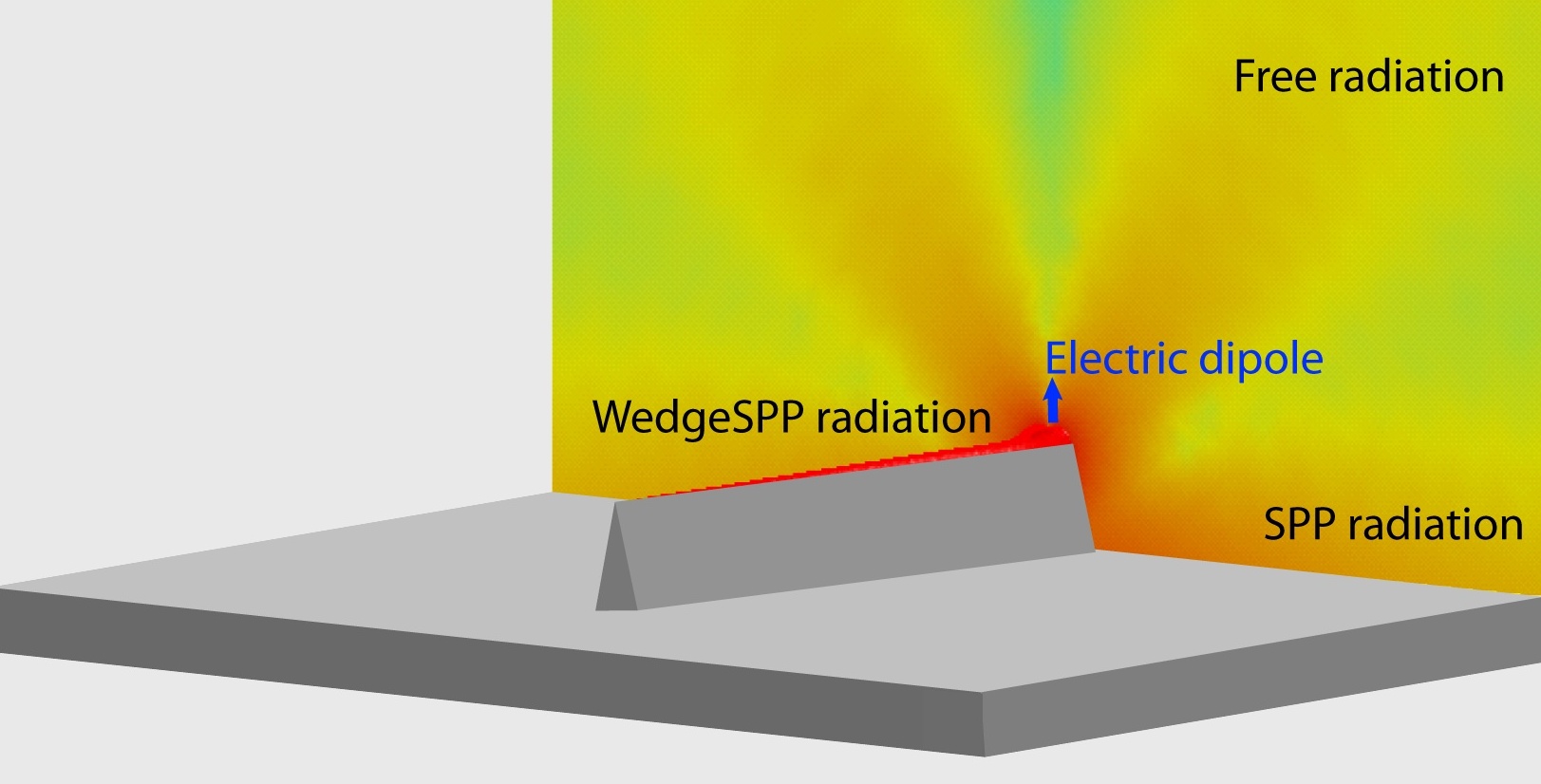 Key References
Theory of strong coupling between quantum emitters and propagating surface plasmons
A. Gonzalez-Tudela, P.A. Huidobro, L. Martin-Moreno, C. Tejedor and F. J. Garcia-Vidal,
Phys. Rev. Lett. 110, 126801 (2013). [pdf]


Weak and strong coupling regimes in plasmonic QED
T. Hümmer, F. J. García-Vidal, L. Martín-Moreno and D. Zueco,
Phys. Rev. B 87, 115419 (2013). [pdf]


Entanglement of Two Qubits Mediated by One-Dimensional Plasmonic Waveguides
A. Gonzalez-Tudela, D. Martin-Cano, E. Moreno, L. Martin-Moreno, C. Tejedor and F. J. Garcia-Vidal,
Phys. Rev. Lett. 106, 020501 (2011). [pdf]


Spoof Surface Plasmons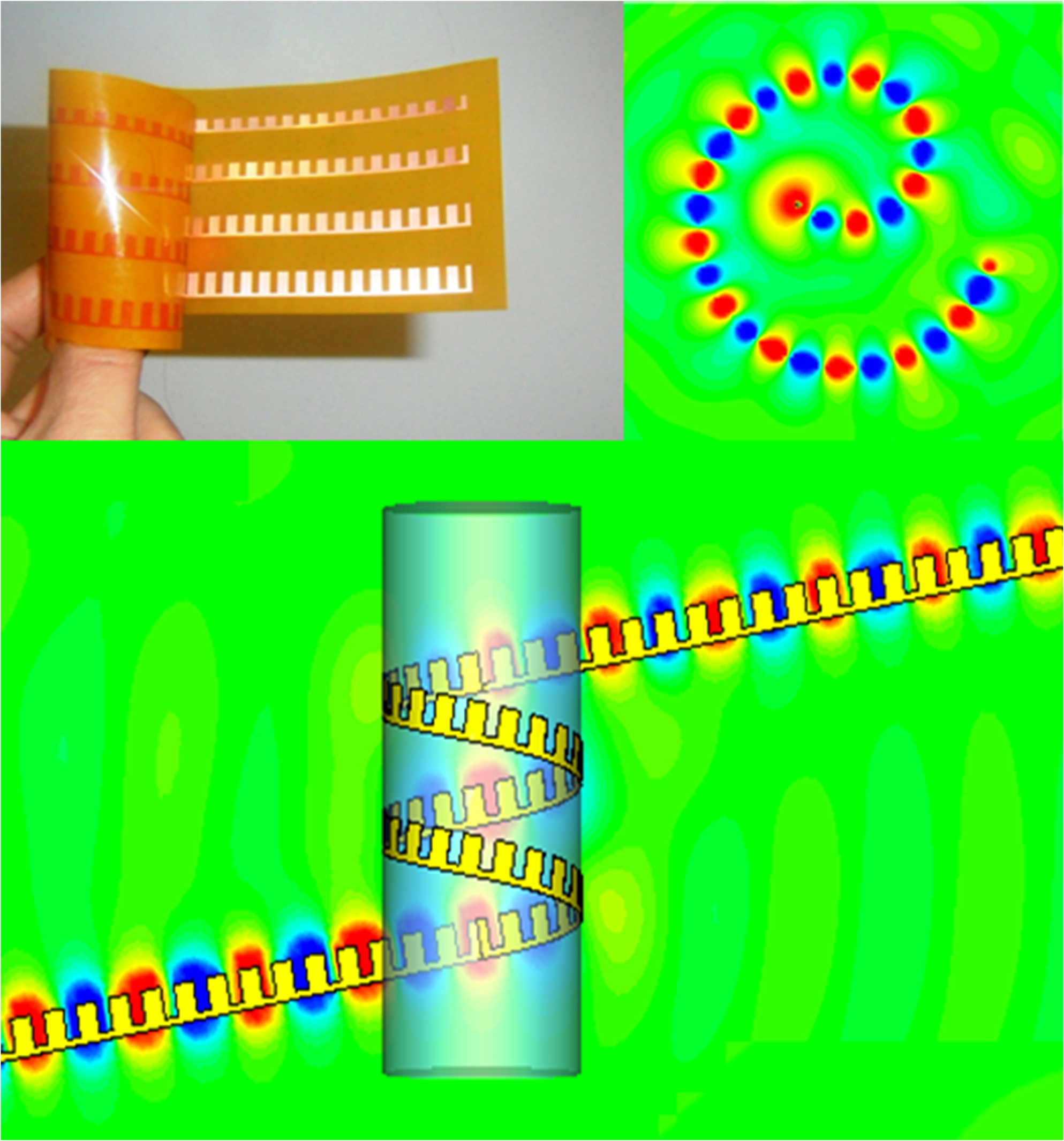 During the last ten years, our theoretical group has been also very active in the research on the so-called spoof surface plasmons. It is well known that the surface of a perfect electrical conductor (PEC) does not allow the excitation of confined SPPs. As metals behave as PECs at low frequencies, the exploitation of SPP-capabilities has been restricted to the optical regime in which SPPs are subwavelength-confined modes. However, when the surface of a PEC is corrugated in a periodic fashion, surface EM modes can be supported by the structured metal surface, with properties mimicking those of SPPs in the optical regime.


Key References
Transformation Plasmonics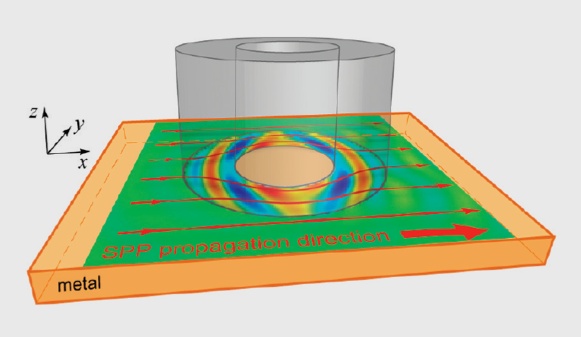 One of the dreams in Plasmonics is to control the flow of light (EM information) at a metal surface. The idea of Transformation Optics (TO) in connection with the concept of Metamaterials when applied to SPP propagation could offer the necessary tools (or recipes) to design new strategies to mold the flow of SPPs in nanostructured metal surfaces.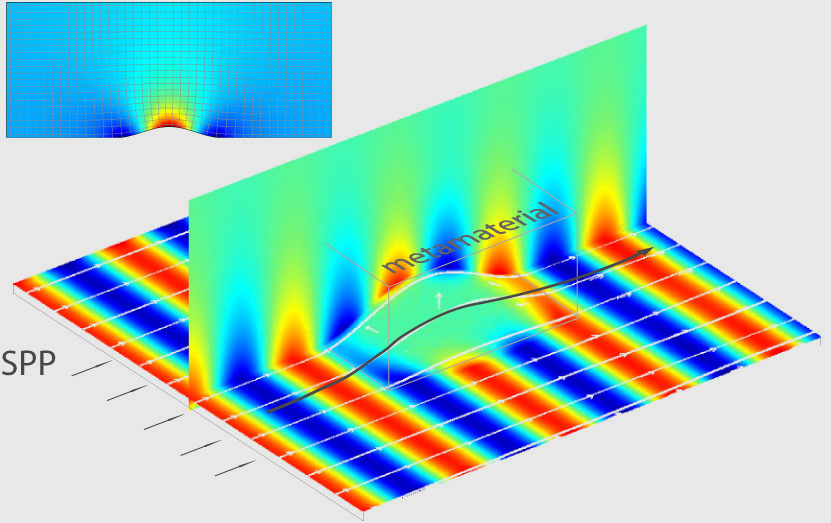 We have devised conformal and quasi-conformal media transformations that lead to recipes in which only the refractive index need to be engineered, facilitating in this way the practical implementation of the proposed SPP-devices. In collaboration with the group of Prof. John Pendry at Imperial College we have also applied TO techniques to investigate electric field enhancements associated with the excitation of localized surface plasmons, in particular how these enhancements are affected by non-local effects.
Key References