SPM-
TH
Scanning Probe Microscopy Theory & Nanomechanics Group
Forces and Transport in Nanostructures
Useful links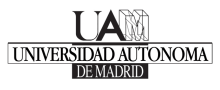 ......
Departamento de Fisica Teorica de la Materia Condensada
......

Campus Map
......

Renfe-Cercanias Madrid
......

Metro maps
......

City of Madrid
......

Madrid weather
......
CONTACT
Our group is located in Madrid, in the Universidad Autonoma de Madrid (UAM), Cantoblanco Campus,
Science Faculty, Module 05, Department of Theoretical Physics of Condensed Matter (floors 4-6).
Arriving by Train:
From Madrid: C4 line of Cercanias (direction of Colmenar Viejo or Alcobendas-S. Sebastián de los Reyes).
From Terminal T4 Airport to Chamartin take line C1 and then continue in line C4 to Cantoblanco campus.
Arriving by Bus:
Line 714: Plaza de Castilla - UAM Departure / Return
Line 827: Madrid (Canillejas) - Airport T4 - Alcobendas - UAM - Tres Cantos Departure / Return
Line 827A: San Sebastián de los Reyes - Alcobendas - UAM Departure / Return
Line 828: Madrid (Campo de las Naciones) - Airport T4 - Alcobendas - UAM Departure / Return